Invest early for a brighter future.
Trade with confidence by using our suite of tools on Moduleo. Trade stocks commission-free for the first three months. When you create an account today, you also get two free shares of your choice.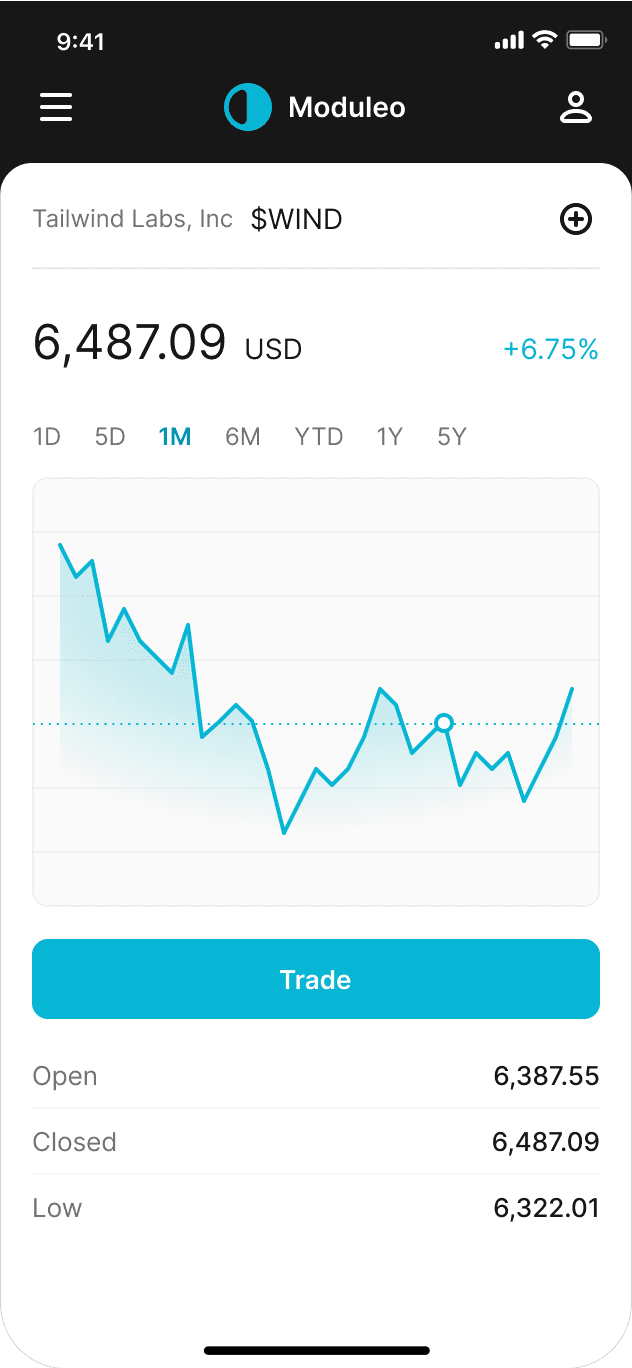 Our app is feature rich. Try it for yourself.
Indulge in our unbelievable feature set catered for investors across the learning scale. Whether you're just starting with investments or a professional, we have something that suits you.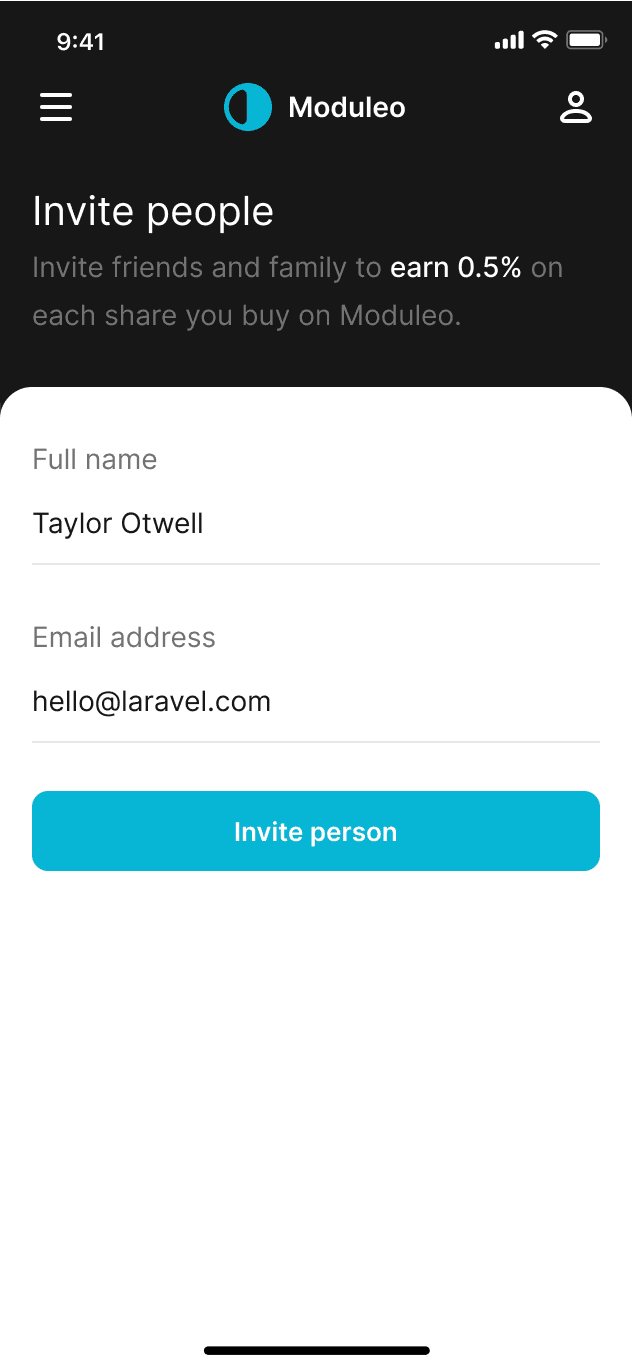 Invite friends for incentives
If you invite a friend or family member, Moduleo will be paying up to 0.05% on every share you buy for 48 hours. Easy money.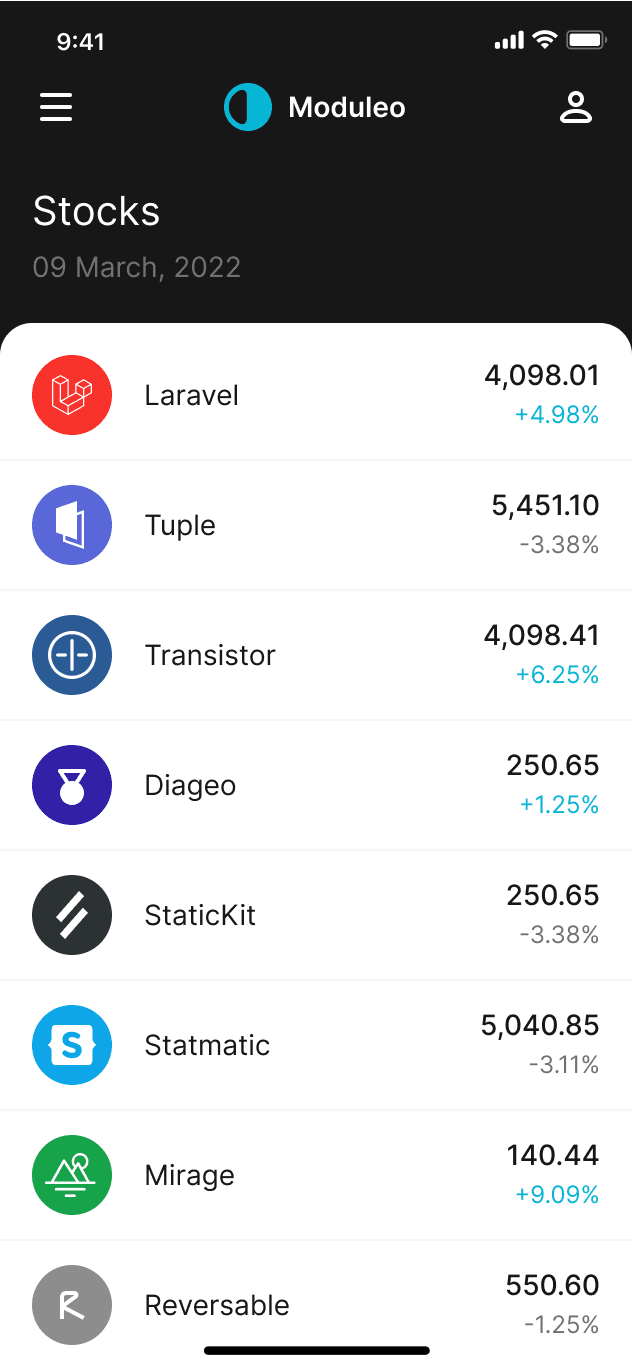 Notifications on stock dips
Be the first to know when your portfolio starts declining or when stocks you're invested in start to appreciate. Customise your notifications to suit you.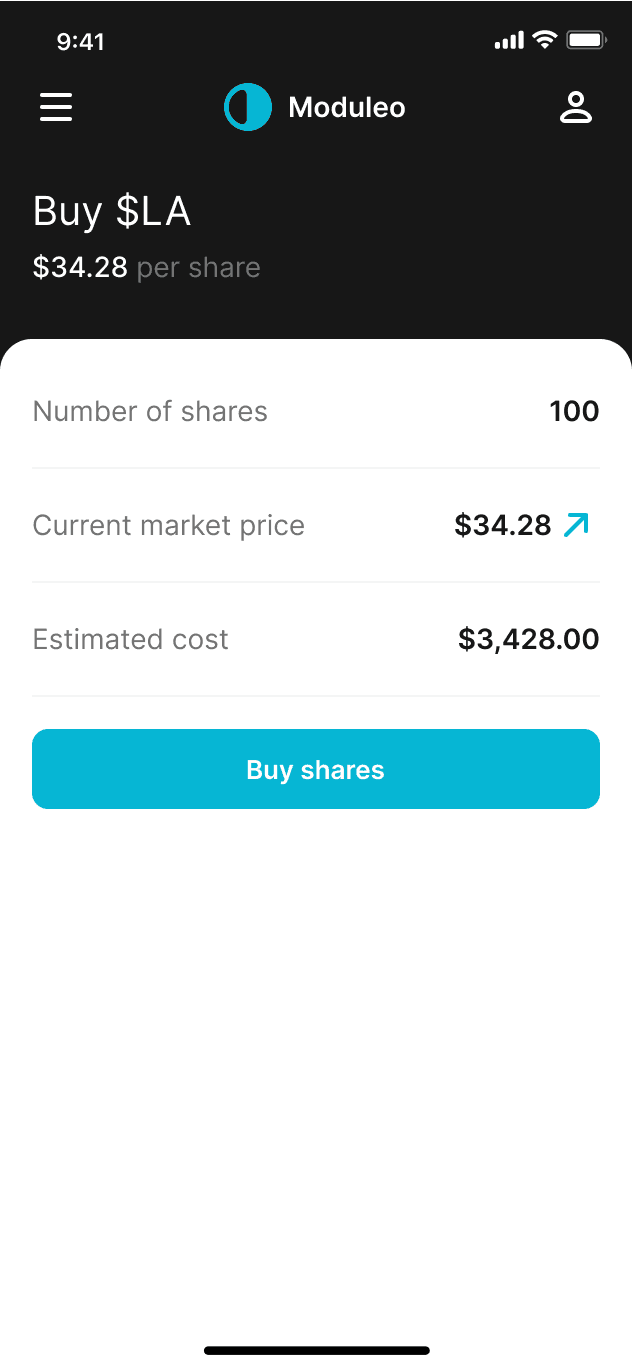 Invest what you want
There is no maximum or minimum limit to what you can invest. The only limitation in place is how many shares you can buy.
Now is the time to build a portfolio.
Trade and invest in top stocks and ETFs. Now is the time to invest in financial markets without all of the legal jargon.
Invest Any Amount

Whether it's $1 or $100,000, we'll guide you to investing that money safely in your shares.

Build a Balanced Portfolio

Quickly build a portfolio of stock options in a matter of days. Invest in what you believe in.

Trade in Real Time

Any trades during market hours will be shown in real-time on our application.

Earn 0.5% on Stocks

Invite a friend and take advantage of our 0.05% incentive on any shares on the market.

Encrypted Stocks and Shares

End-to-end encryption helps secure every payment or trade made within our application.

Portfolio Tracking

Keep informed on how your portfolio is performing with our live events tab.
Reviews. What are people saying?
We love our customers. And they love us.
Simple pricing, for everyone.
We have you covered if you're new to investing or running a VC firm.
Personal
$0
Are you looking to buy your first shares and start trading? This account is perfect for you.
Free ISA account

0.03% Share Incentive

Secure 2fa encryption on transactions

Allowance of $5,000 per month
Get started for free
Investor
$7
You're a seasoned pro. Get more perks and incentives with our upgraded plan.
ISA & Pension account

1.15% Share Incentive

Commission-free investing

Secure 2fa encryption on transactions

Exclusive bonus investments

Allowance of $40,000 per month
Subscribe
VIP
$199
Are you running a VC firm or hedge fund? We have all the tools you need for day to day business.
Unlimited accounts

Commission-free forever

Secure 2fa encryption on transactions

Crypto investing

Exclusive bonus investments

Unlimited allowance

Unlimited trading
Subscribe
Frequently asked questions
If you can't find what you're looking for, then reach out to us.
Does TaxPal handle VAT?

Well no, but if you move your company offshore you can probably ignore it.

Can I pay for my subscription via purchase order?

Absolutely, we are happy to take your money in all forms.

How do I apply for a job at TaxPal?

We only hire our customers, so subscribe for a minimum of 6 months and then let's talk.

What was that testimonial about tax fraud all about?

TaxPal is just a software application, ultimately your books are your responsibility.

TaxPal sounds horrible but why do I still feel compelled to purchase?

This is the power of excellent visual design. You just can't resist it, no matter how poorly it actually functions.

I found other companies called TaxPal, are you sure you can use this name?

Honestly not sure at all. We haven't actually incorporated or anything, we just thought it sounded cool and made this website.

How do you generate reports?

You just tell us what data you need a report for, and we get our kids to create beautiful charts for you using only the finest crayons.

Can we expect more inventory features?

In life it's really better to never expect anything at all.

I lost my password, how do I get into my account?

Send us an email and we will send you a copy of our latest password spreadsheet so you can find your information.